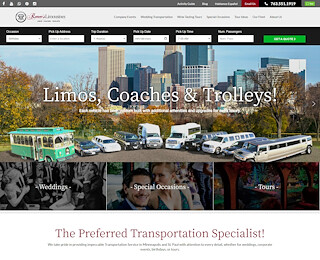 Why It's Worth Getting Corporate Event Transportation MN
The secret to a successful corporate event lies on the contentment of the guests. It can be done by giving more emphasis on innovation and creativity. The problem is many companies cut costs in hopes that it will make the event meaningful even with a reduced budget.
If you have guests and business partners coming from distant places, it's your task to ensure they get to the event destination safe and on time. Make it possible by providing corporate event transportation for them. Renee's Limousines is the leading provider of corporate event transportation in MN. Here are the things our clients receive from our luxury transportation services:
Reliable Equipment
Safety and comfort are the most important things to consider when renting a vehicle for your guests. If they are coming from another country, expect that they are not too familiar with the destination. Hence, it's your duty to provide transportation for them right from the airport. It is part of business etiquette to arrange for the client's corporate event trasportation in MN.
Renee's Limousines are custom built with additional amenities and upgraded for extra comfort and luxury. We received several recognitions, including an award for the "Best Transportation" by Minnesota Bride Magazine. Whether you are looking to rent a luxury service for meetings or for airport, we can provide a transportation that suits your need.
Trained Chauffeurs
The luxury service experience greatly depends on the chauffeur. This is why it is important that they passed all the trainings required for them and they are fully aware of the existing Minnesota traffic regulations. They are always professionally dressed in black suits with ties.
The drivers will also greet your guests or clients courteously. On top of that, our chauffeurs understand the confidentiality with all client interactions. We are a member of the Minnesota Chauffeured Transportation Association, a group of small business owners aiming to improve the industry laws. That is why choosing Renee's Limousines for your corporate event transportation in MN will leave a great impression.
Knowledgeable Staff
We equipped our staff with all the skills they need for them to handle all the concerns about luxury transportation services with politeness and professionalism. They are all highly knowledgeable in terms of helping the clients in scheduling and booking.
When you have questions regarding Renee's Limousines corporate event transportation MN, feel free to give us a call at 763-551-1919. Our service areas include the Minneapolis, St. Paul, West Metro, East Metro, North Metro, and South Metro.
Experience Luxury Transportation Service Today
Many businesses and corporate event organizer ask if it is worth renting a limo. It is because it adds convenience to your guests. Besides adding convenience to them, it also guarantees that your event is done on time.
The biggest benefit of doing so is you will leave a good impression with your guest or business partner. Making a good impression is important, especially when you are targeting to close a deal. Your business partners will feel valuable because of the kind of attention you gave them. Let them experience a luxury service by booking with us!
Corporate Event Transportation Mn
Renee's Limousines
763-551-1919
12813 Industrial Park Blvd
Minneapolis
MN
55441
View Larger Map