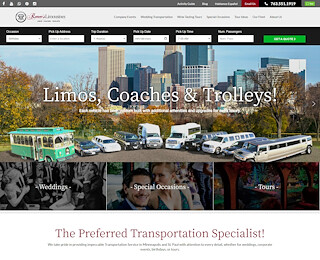 Broadway and Hasty Weddings with Transportation Company in MN
The immortal Broadway musical and movie My Fair Lady features a song by the character Alfred P. Doolittle (wonderfully played by actor Stanley Holloway) called "Get Me to the Church on Time" where he pleads with his buddies to help him make a timely arrival at the altar for his wedding the next morning. Had Renee's Limousines been in service in London in the early 1900s, then Doolittle's problem would have been solved.
Moving forward to the 21st century, the legal union of two people in matrimony is usually an event that is celebrated. There are exceptions such as the "Shotgun Wedding" where one member of the duo (and possibly both) are "persuaded" to say "I do" under some duress from a loaded rifle held by an angry father-in-law who expects to be called Grampa in a few short months.
One other notable exception is the hastily arranged marriage to a "mail order spouse" before the 90-day fiancé Visa expires. Very little planning is needed for these types of weddings. Fortunately, true shotgun weddings are a thing of the past and today many people meet their match online making the term "mail-order spouse" obsolete.
Plan with Renee's Limousines
For many couples wanting a larger more traditional marriage, they will need to use the services of an event planner to make sure that every detail is covered from invitations and flowers and to the reception that follows the nuptials. The planner will also need to arrange for transportation for the bride and groom as well as the wedding party to make sure they do get to that church on time.
For weddings in the Minneapolis-St. Paul area, there is no better choice than Renee's Limousines to provide a luxurious and elegant way for the bride to make her appearance. This transportation company in MN offers a list of awards which includes the Angie's List Service Award, the Best of Weddings Award from The Knot Magazine and many other awards since they began service in 1992.
If a wedding is not in your plans, then Renee's Limousines offers a wide array of transportation services including Wine Tours and a Holiday Lights Tour. And no city nightlife would be complete without a couple of Pub Crawl events in a 30-passenger trolley.
One of the more interesting tours is a Gangster Tour where you will learn about the hideouts of legendary criminals like John Dillinger and details of the kidnappings of members of the Hamm's and Schmidt brewing families in St. Paul. You will ride in a luxury chauffeured limo and visit the places where the criminals planned their crimes.
No One is Left Out!
The most important feature of Renee's Limousines is that everyone in your party will be able to enjoy the event or tour without worrying about a designated driver. You and all your guests will be able to consume alcohol without worry and no one will be left out. The drivers are well trained, the vehicles are well maintained and insured and offer luxuries not offered by other limo services.
If you have a big event and need a transportation company in MN, then contact Renee's Limousines by calling 763-551-1919 or you can use the Instant Quote feature online to find the best luxury limo for you to arrive in style.
Transportation Company Mn
Renee's Limousines
763-551-1919
12813 Industrial Park Blvd, Minneapolis, MN 55441
View Larger Map
We Specialize In:
We welcome your comments!
"Everything was perfect. The 50th Anniversary Napkins were a special touch. Linda was great, very professional, and accommodated all our needs. The routes she took us on were nice. The car looked great and my parents said it felt like a dream. We would highly recommend your service to anyone. Thanks for making my parents anniversary so memorable!"
– K. Montgomery
View More
Award-Winning Service
Renee's Limousines has been awarded "Best Transportation" by Minnesota Bride Magazine, Minneapolis St.Paul Weddings Magazine, and Minnesota Meetings + Events Magazine.
Minneapolis / St.Paul Magazine Diamond Awards
The Twin Cities transportation staple won the respect of our judges for the 5th year in a row. "Their endless options and longevity in the industry make it hard to beat," said one judge.
Learn More
Minnesota Bride Magazine "Best of" Awards
A leader in Wedding Transportation in Minnesota since 1992. Renee's Limousines is known for their attention to every detail, thus earning them Minnesota Bride Magazine's Best Transportation award for 10 consecutive years!
Learn More