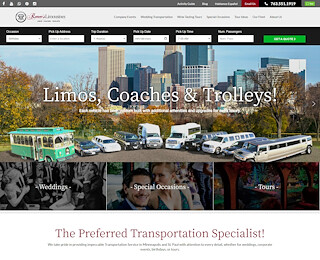 Every couple planning their wedding wants their experience to be unforgettable. Every stage of the event, every detail must be just perfect. One of those touches that turn a wedding into a unique occasion is the limousine trip for the bride and groom. These vehicles are synonymous with elegance and glamour. Enjoying this wonderful experience on the wedding day will make the bride and groom happy from the first second.
Arriving at the Wedding In Limousine: Getting Married in Style
The comfort, discretion, and elegance of a luxury car like a limousine are unmatched. Inside the vehicle, the couple can enjoy comfortable leather seats, as well as the many goodies installed on board. Also, they will be transported by professional chauffeurs who will carry them safely, and attend them with all the protocol that deserves the occasion.
Not Just For the Newlyweds
The significant advantage of having the services of an exceptional wedding limo service in MN such as Renee's Limousines is that the best companies have a variety of services, and a versatile fleet to assist you in the event.
In addition to transporting the bride and groom, you can hire a limo to get other people to the marriage, such as parents, godparents, and courtship. The success of a wedding depends to a great extent on whether all the principal characters are on time at church or the celebration. An excellent service provider will help you to make it happen.
It's an Excellent Wedding Gift!
If you are not the person getting married, but you want to make an excellent gift, a limousine trip is an exceptional idea. These types of gifts stand out from ordinary ones because you give more than just a trip: you are giving the bride and groom wonderful feelings and emotions on their special day and helping them create unforgettable memories of their union. If they have already hired a service for the event do not worry, they can still use your gift to go on their honeymoon.
How to Hire a Wedding Limo Service Successfully?
The first key to successful hiring is to make it in time. This will allow you to compare the different service options available. Ask each provider if they have special packages or promotions for marriages. Also, if there is a whim you want to please in the ride, now is the time to ask the provider if they can make it possible.
Find out about their fleet. The most prestigious limousine companies will provide you with different options from the classic to the modern Hummer Limo, for example. Ask about what the service includes, and the duration of the package.
It is vital that you request information about the company's certifications and expertise. For example, Renee's Limousines is registered in the Minnesota Chauffeured Transportation Association, (MCTA) and the National Limousine Association (NLA). This is a guarantee of a high standard of service quality, and the vehicles are properly insured, and in perfect condition.
Trust the Best!
If you're planning a marriage and looking for a wedding limo service in MN, Renee's Limousines is your best choice. Let our exclusive vehicles and outstanding staff contribute to make the wedding a once-in-a-lifetime event. You can request an immediate quote online or contact us; you'll be more than satisfied.
Wedding Limo Service Mn
Renee's Limousines
763-551-1919
12813 Industrial Park Blvd, Minneapolis, MN 55441
View Larger Map
We Specialize In:
We welcome your comments!
"Everything was perfect. The 50th Anniversary Napkins were a special touch. Linda was great, very professional, and accommodated all our needs. The routes she took us on were nice. The car looked great and my parents said it felt like a dream. We would highly recommend your service to anyone. Thanks for making my parents anniversary so memorable!"
– K. Montgomery
View More
Award-Winning Service
Renee's Limousines has been awarded "Best Transportation" by Minnesota Bride Magazine, Minneapolis St.Paul Weddings Magazine, and Minnesota Meetings + Events Magazine.
Minneapolis / St.Paul Magazine Diamond Awards
The Twin Cities transportation staple won the respect of our judges for the 5th year in a row. "Their endless options and longevity in the industry make it hard to beat," said one judge.
Learn More
Minnesota Bride Magazine "Best of" Awards
A leader in Wedding Transportation in Minnesota since 1992. Renee's Limousines is known for their attention to every detail, thus earning them Minnesota Bride Magazine's Best Transportation award for 10 consecutive years!
Learn More